Pride Glasgow, Scotland's largest Lesbian, Gay, Bi-sexual and Transgender Pride Festival returns on July 19th for a 10 day festival celebrating the LGBT community!
Pride Glasgow 2014 main event will take place from 12pm on the 19th of July.
Due to Commonwealth games taking place in Glasgow this year, final venue etc to be confirmed.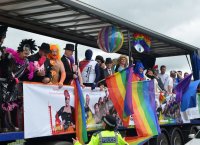 Staying in Glasgow?

See also: www.gaytravel.co.uk/scotland.htm / Glasgow
Address: City Centre, Glasgow, Strathclyde, G1