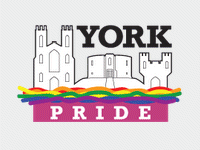 York Pride is a charitable organisation which aims to promote equality, diversity and advances in education, in order to eliminate discrimination against the Lesbian, Gay, Bisexual and Transgender (LGBT) Community.

York Pride 2017 Parade
York Pride raises awareness of LGBT issues by promoting and staging events, taking part in campaigning and commentary in the media, and providing support to other LGBT charities and voluntary organisations. We also promote the provision of information, advice and support that celebrate LGBT lives and history. We aim for York to be a place where everybody knows that the diversity offered by the LGBT community is something to be celebrated and in which LGBT people can feel safe and accepted. We believe that inclusiveness improves self esteem and provides a sense of belonging, which helps to diminish the psychological effects of discrimination faced by individuals in daily life.

This year's event takes place on Saturday 10th June 2017.