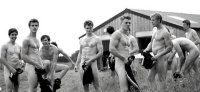 Thanks for coming to visit our little boathouse on the internet. We are probably best known around the world for our naked calendars, but we're also a real sports team, and have produced Olympic and world class competitive rowers.

Our calendars help us to fund our sport, and enable us to do our own outreach programme to young people called Sport Allies.

Here you can find out what we're up to, how our training is going, and how you can help us with our work to combat bullying and homophobia in schools.

Please support these guys by buying one of their naked calendars or related products!